5 Tips for Buying Athletic Apparel
Monday, September 11, 2017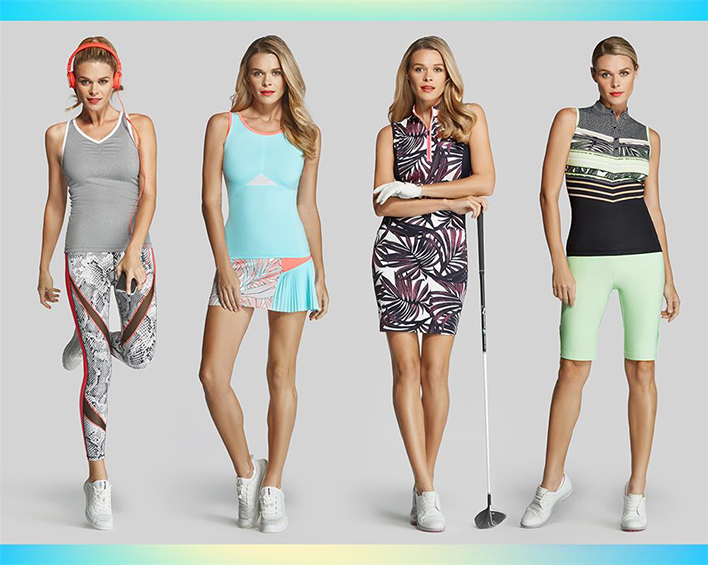 With so many options out there, it can be hard to know how to select the best athletic apparel. Here are our top five tips for making sure you're investing in quality pieces you'll feel great wearing.
1. To keep cool and dry,
invest in athletic apparel that has moisture management capabilities, which will significantly improve your comfort when playing your favorite sport. Some fabrics like cotton, rayon, and nylon keep moisture trapped against the body; this can affect your body's ability to regulate its core temperature. These fabrics soak up water and become heavy and stretch out due to the weight of the water.
Good moisture management fabrics move moisture from the skin, into and through air spaces between the poly fibers and to the surface of the garment where evaporation is the fastest.  Tail Activewear apparel has the best moisture management fabrics in the industry. Tail works closely with yarn and fabric mills to carefully select combinations of poly filaments, fibers, and yarns to produce top performing moisture moving fabrics.
2. For comfort,
choose athletic apparel and athleisure garments that have a small percentage of spandex in them. This allows for freedom of movement and a greater range of motion during exercise which is especially important in golf, tennis, and yoga.
3. To stay protected from the sun's harmful rays,
look for apparel with UPF technology. For many, one of the most enjoyable aspects of playing tennis, golf, or other outdoor sports is being able to enjoy the fresh air and sunshine; however, if you're not properly protected from ultraviolet radiation, sun exposure can lead to sunburn, prematurely aging skin, and even skin cancer.  Most of the fabrics used by Tail Activewear are rated UPF 50 and block approximately 98% of harmful UVA and UVB rays.
Within each collection, Tail offers tops with a range of coverage options for those who prefer more coverage on their back or shoulders, while still maintaining a focus on fashion forward, stylish designs. If you fall in love with the design of a certain racerback or sleeveless tank but desire more coverage, incorporating the Sasha top into your ensemble is the perfect solution. The Sasha is a crop top designed to be worn as a layering piece. You can wear it underneath a tank or throw it on top for sun protection that won't quit. In addition to the coverage it provides, the Sasha has excellent moisture management capabilities so many athletes report feeling cooler wearing it than having nothing on their arms at all.
4. To perform your best,
make sure you love how you look and feel! When it comes to athletic performance and fitness, you can "dress for success."  When you wear athletic apparel that you feel confident in, you can experience something called "enclothed cognition," which refers to a psychological change you experience when you wear certain clothes. The Journal of Experimental Social Psychology reports that one study suggests clothing influences behavior and attitude because it carries a symbolic meaning; therefore, wearing new fitness gear can help you mentally prepare for the task at hand and actually help you perform better as a result. The confidence you get from wearing apparel that is fashionable and reflects your sense of style can make you feel more confident in your athletic abilities, which can lead to improved focus and motivation.
5. For faster recovery,
compression clothing can offer multiple benefits to active women. Compression clothes are generally tight in the extremities, and by applying pressure to particular areas of the body, they provide more force to help circulate blood back to your heart. Increased blood flow helps to deliver more oxygen and nutrients to the muscles, allowing you to train harder and longer. Lactic acid can cause soreness, cramping, and fatigue after exercising. Compression clothing can help reduce the amount of lactic acid that develops in your muscles during exercise, allowing for faster recovery after an intense workout. Compression clothing can also provide extra support to muscles and help stabilize joints which can help prevent some injuries.
Use this new knowledge to select pieces you love that will help you perform your best on the court, course, and beyond!