Healthy Sweet Potato Casserole by BeyondFit Mom
Tuesday, December 14, 2021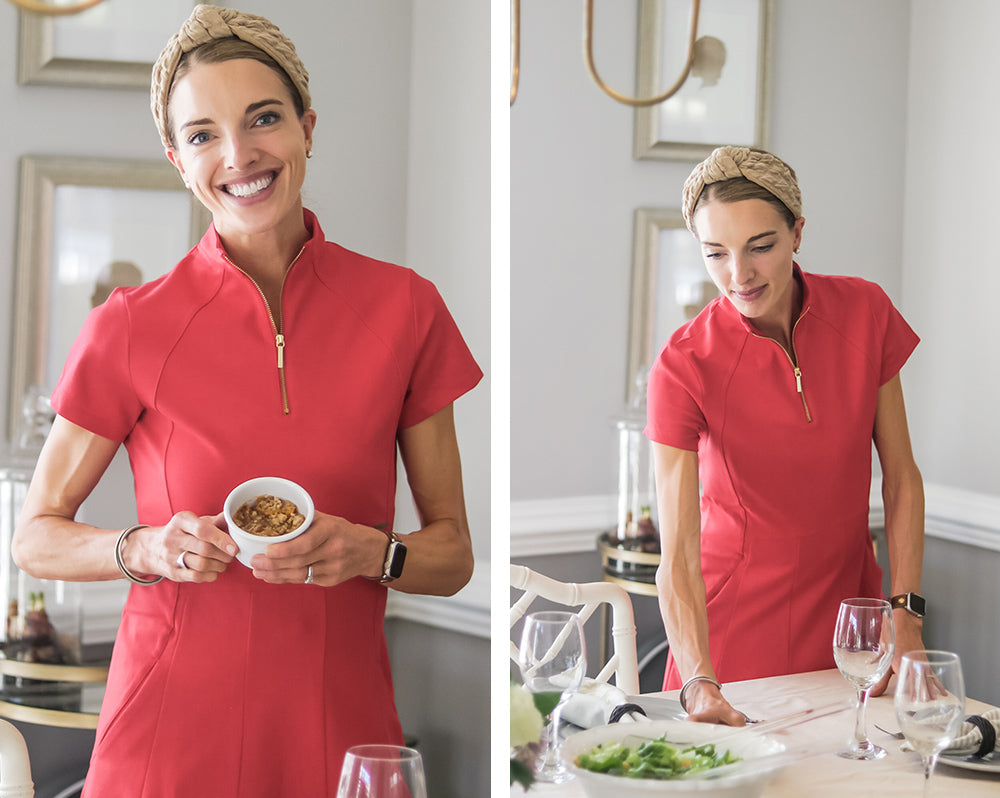 Ingredients 
For the Sweet Potatoes:
4 1/2 pounds sweet potatoes
1 cup unsweetened vanilla almond milk
2 vanilla beans
2  tablespoons  virgin coconut oil

melted

3/4 teaspoon ground cinnamon
3/4 teaspoon kosher salt
1/2 teaspoon  freshly grated nutmeg 
1/4 teaspoon white pepper
For the Pecan Oat Topping:
1 1/3 cups old-fashioned rolled oats
1  cup roughly chopped pecans
1/2 cup almond meal
1/4 teaspoon ground cinnamon
1/4 teaspoon kosher salt
5 tablespoons melted coconut oil
1 tablespoon pure maple syrup
Instructions:
Preheat the oven to 375 degrees. Lightly grease a 9×13-inch casserole dish or individual ramekin dishes and set aside. 

Bake sweet potatoes until the potatoes are fork tender, about 1 hour or so, depending upon the size of your potatoes. 

Remove from the oven and let sit until cool enough to handle, about 5 minutes.  Peel and discard the skins, break the potatoes in large chunks with a fork, then place the chunks into the bowl of a standing mixer fitted with the paddle attachment or a large mixing bowl.

While the potatoes bake, pour the almond milk in a small saucepan. Bring to a very gentle simmer over medium heat for 5 minutes, stirring occasionally. Do not let the almond milk boil. Remove from heat and add vanilla while the potatoes continue baking.

Pour the almond milk and vanilla bean specs into the bowl with the sweet potato chunks. Add the melted coconut oil, cinnamon, salt, nutmeg, and white pepper.

Mash the potatoes together with the milk and spices until fairly smooth with some texture remaining.

Transfer to the prepared baking dish(s) of your choice. 

In a separate bowl, combine the topping ingredients — oats, pecans, almond meal, cinnamon, salt, coconut oil, and maple syrup — until moist and evenly mixed. Sprinkle over the sweet potatoes.

Bake until the topping is toasted and fragrant and the casserole is warmed through, about 20 minutes. Serve warm.
About Kate
Kate Horney is a health & fitness professional, wife & mom who is passionate about helping women live healthy, happy and balanced lives. 
Specializing in prenatal & postnatal fitness as well as Certified ME-NC Nutrition Coaching and female fat loss, Kate has worked with thousands of women worldwide through her online fitness programs designed specifically for women using research, science, and proven techniques.
Tail Activewear customers can take advantage of an exclusive offer to receive 50% off of their first month of the BeyondFit Food program that includes weekly grocery lists, meal plans, and recipes. Click here to learn more.