How to Choose the Best Tennis Bottoms
Tuesday, January 31, 2017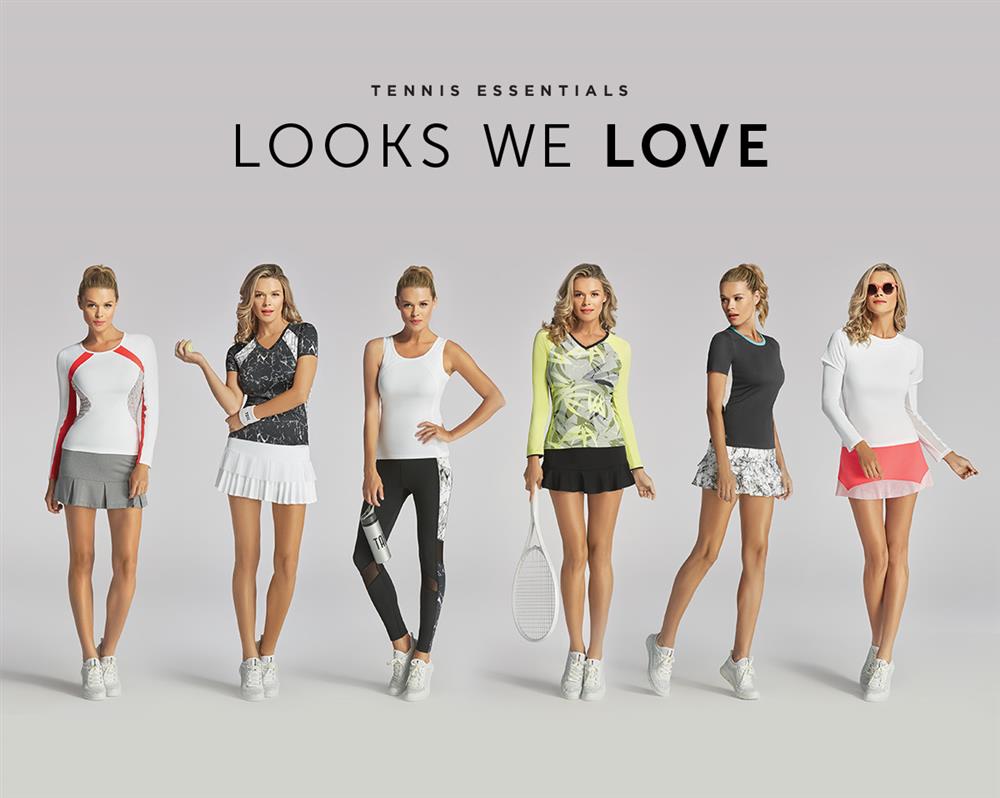 Tennis apparel has its own set of requirements in the athleticwear world. Not only does it have to fit well, feel good, and move, but it also has to be functional. (It doesn't hurt if it's stylish, too; in fact, tennis might be the most fashion-forward sport next to golf and probably ice dancing.) All this makes selecting tennis bottoms an important task – there are so many options, it's hard to know where to start. We'll break it down for you step-by-step with these guidelines for choosing the best tennis bottoms for your game.
Fit


Choosing the right fit is crucial for bringing your best game to the court. Length is a deeply preferential choice, and has more to do with what you feel comfortable wearing; however, there are implications for how you play, too. A skirt that's too long gets in the way when you're running across the court. A skirt that's too short might be uncomfortable and a distraction if you're constantly pulling it down. Luckily, there are a variety of lengths out there to choose from. You can also choose a modern or classic rise; the waist of a modern rise bottom sits about an inch and a half below the belly-button, whereas a classic rise sits at the natural waist. This decision also comes down to personal choice and comfort.

Shorties


Most tennis skirts come with attached shorties; some require a separate pair. Either way, shorties should fit well and be comfortable. Romina Heighes, lead tennis designer at Tail, explains, "A great pair of shorties should feel seamless. The quality of the fabric should have a combination of stretch and compression to move with your body." Shorties in a flimsy fabric are ones you'll constantly be pulling on and adjusting. Some shorties have built-in ball pockets, which are handy for storing tennis balls and avoiding the need to store them uncomfortably underneath your shorties.

Yoga Pants vs. Skirts


This age-old debate is as preferential as skirt length. It's probably smart to have both leggings and skirts for different conditions and types of play. Colder weather makes yoga pants look really attractive compared to those short skirts – and if you can find yoga pants with ball pockets, even better! Like shorties, yoga pants should be comfortable and move with you. High-quality yoga pants won't stretch out or roll down as you bend or swing.

Yoga Pants + Skirts = Skeggings


Solving the age-old yoga pants vs. skirts debate is the hybrid skegging. This garment combines the look of a skirt with the warmth and coverage of a legging. You can make your own skegging by throwing yoga pants on under a skirt for those cold days, too.

Performance Fabrics


It's a no-brainer these days, but choosing performance fabrics is a must. They wick away sweat, avoid chafing, and stretch with you. Fabric technology today is advancing rapidly. If you really want to push the performance limit, you can find fabrics with UPF protection and anti-microbial properties.

Dress Code


Some clubs still have dress codes that call for strictly tennis whites (or black in the winter in some northern clubs). Make sure to check the dress code of the club you're visiting before you show up. The dress codes at some clubs have gotten more lenient, with many allowing some color on whites or not requiring whites at all. But others still adhere to the traditional rules. Make sure you know what rules are in place at your club, or you may not be able to play.

Style


When Fox Sports covers The Best and Worst Fashions at the French Open, you know style on the court is almost as important as style of play. Bold prints, unique cuts, and stand-out details make dressing for the court as much fun as playing the game. Trust your gut and choose fashions that will make you feel as good on the sidelines as it will on the winner's podium.
Selecting the best tennis bottoms comes down to personal preference in a lot of ways. Choosing high-performance, properly-fitting, well-constructed pieces will help you forget about your clothes to focus on your game. Check out Tail's full line of high performance tennis apparel here, and we'll see you out on the court.