Meet the Tail Team: Five Questions with Brand Ambassador Tiffany Faucette
Tuesday, January 31, 2017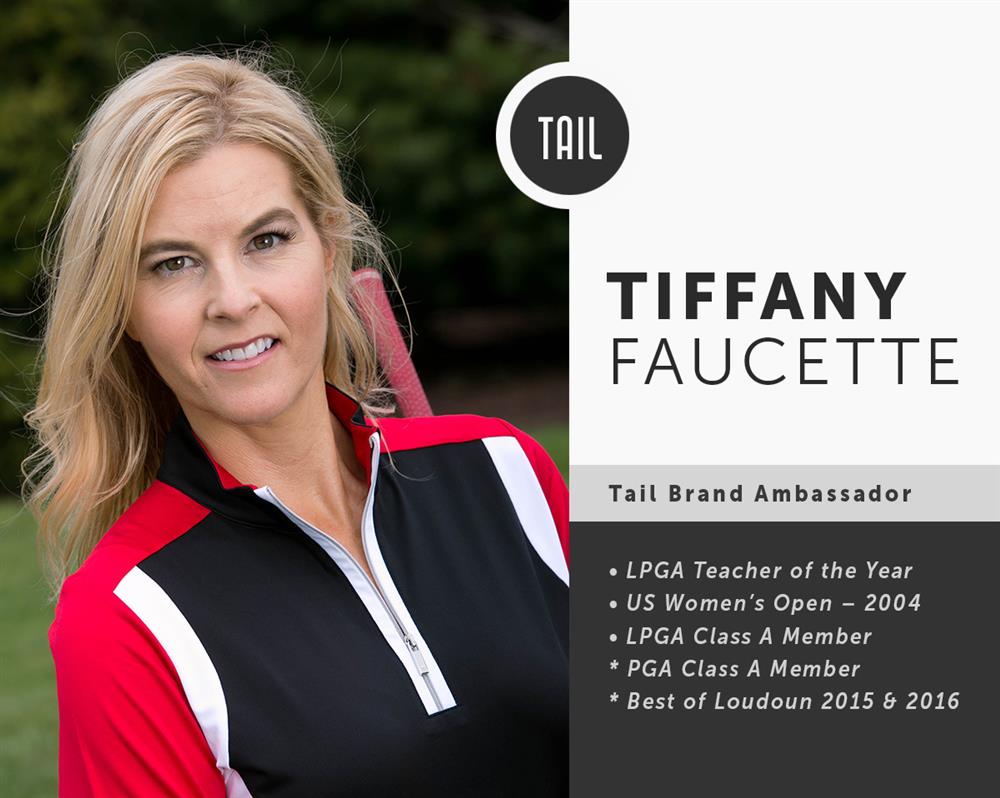 If you don't already know Tail Brand Ambassador Tiffany Faucette, you are in for a treat! Tiffany is a certified LPGA instructor and the Golf Academy Lead Instructor at the 1757 Golf Club in Dulles, VA. She was awarded the honor of the LPGA Northeast Section Teacher of the Year in 2014. Tiffany is kicking off 2017 by releasing her first book, Fighting Golf™, which teaches you to Flow with Force & Fly!™ during your golf swing by relating everyday movements to the motion of your swing. We sat down with Tiffany to talk about how she transitioned from competing to teaching, why she loves Tail, and what she thinks her book will accomplish for new and experienced golfers alike.
Why did you decide to become an LPGA teaching pro after enjoying such a successful professional golf career?



The main reason I went into teaching is because I know golf and I love helping people.  it was a no brainer for me to begin teaching. I was already teaching here and there while I was competing, so it was an obvious next step for me.

While I was playing, I was consumed with every aspect of the game. It was all I thought about. I was immersed in the mental game, the fitness side, the swing technical side, the business of golf, promotions, rules, strategy, etc. I also know that golf was a struggle for me to understand as I started the game.

I decided to share the knowledge that I had acquired through my professional journey so I could provide others with more enjoyment from golf. My hope was to save other golfers lots of time by sharing solutions to certain issues with the golf swing that tend to be confusing.

When I decided to teach golf, I knew I would make the lessons fun (although the work by the student does demand focus). I know my practice often seemed like a grind; to keep the motivation up for my students, I wanted to inject humor and compassion. In all things, there are setbacks, but with humor and enthusiasm, you can get past them all.

I also thought about what my day-to-day life would be like. Golf is a game that is set in beautiful surroundings. When I thought I would have to give up Mother Nature as an office and possibly be in an office with no windows, I couldn't bear it.

There has not been one day since I started teaching seriously that I have regretted it. It brings me tremendous joy to watch my students achieve personal success.

What would be your #1 tip for a beginner golfer?





If you have never played golf before, I would suggest two things, not one.

First, I would suggest you buy one club – a nine iron – and make sure it is fit to your posture.

The second thing I would recommend is making 200 practice swings at home before you ever try to hit a ball.  (You don't have to make all those swings in one day. You could break it up and do 40 swings a day for five days. But make a lot of swings before you head to the range for the first time.)

Golf clubs seem like odd objects when you first try to swing them. I know the first time I looked at a golf club, it didn't look easy to use. By swinging inside your home, you won't feel like people are watching you, and you will also get used to the look and feel of the club. Then, when you go out to hit your first ball, at least you will be familiar with your golf club.

Good luck! And swing away! :)

Why did you decide to partner with Tail for golf apparel while teaching?





Tail seems to be a part of my life. When I first starting playing golf, my mom bought me an adorable short sleeve golf shirt from Tail. It was tan and white with a print design. I basically lived in that shirt and wore it most days when I practiced as I didn't have that many "golf" clothes when I first picked up the game. I was used to seeing the Tail tag on the shirt as I got ready to go golf. In my mind, Tail and golf just went together.Once I became a more accomplished golfer, I was lucky enough to become a Tail Brand Ambassador. I believe a partnership with Tail was supposed to happen: Tiff & Tail. :)

How does Tail apparel make a difference for you on the course?



Tail makes a difference on the golf course for me because I am always comfortable. Tail golf apparelworks with the movement of your body. Some clothes are restrictive or just don't look right for the golf course. Tail always releases fresh looks perfect for most situations you have during the day. I feel great going from the golf course, to running errands, to lunch, to networking events.

Tail also has golf in mind when designing their clothes. Pockets are always in the right place and the fabrics feel great. There is nothing worse than wearing a golf shirt that feels "scratchy" as you move. Tail works – I suggest you put some into play!

Tell us about your new ventures and what we can expect to see from you in the coming months. What is your book about?





So much is about to happen! If all goes as planned, I will be launching my first book: Fighting Golf™ this month! Fighting Golf™teaches you to Flow with Force & Fly!™ during your golf swing by relating everyday movements to the motion of your swing.

I am excited about this book because my goal is to give people a guide for everything they need to know to hit a good shot consistently. This will eliminate the need for golfers to search for hours trying to understand the countless golf tips out there and which ones work together. Each chapter gives you a series of drills so you can build your swing from start to finish.

The book is laid out so it is easy to see how one motion blends into the next. The goal is to teach you how to stop fighting yourself during the swing and instead use fighting moves to help you flow through your golf swing.

Moving is fun. Moving fast, in balance, while hitting the golf ball out of the center of the face is beyond fun! My book is aimed at teaching all golfers to swing fast in balance – which makes golf exhilarating!

Thank you to Tiffany for chatting with us! We are so excited for you to get your hands on her incredible book. If you'd like to check out Fighting Golf™, find it on Amazon here. You can also keep up with Tiffany on her website at www.FightingGolf.com  and on Twitter at @FaucetteGolf.