Top 10 Tennis Bag Essentials
Thursday, August 17, 2017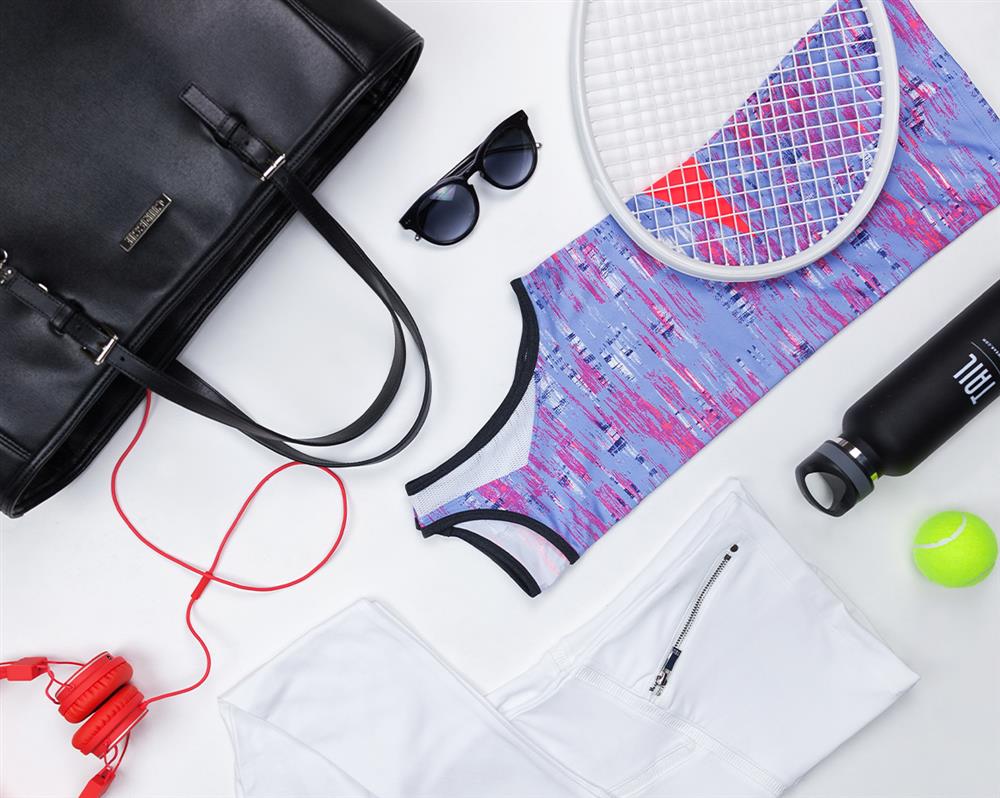 There's nothing worse than getting to the court and realizing that you forgot something at home. Throw these ten items in your tennis bag and you'll be prepared for whatever your next match throws at you.
An Extra Racquet: Bringing an extra racquet or two ensures that broken strings or a cracked racquet will not stand between you and a great day on the court.

A Water Bottle: Proper hydration can prepare you for optimal performance both on and off the court. When properly hydrated, you will be positioned for an increased level of physical stamina and mental focus. The Tail Vacuum Insulated Water Bottle is a tennis-pro favorite because it keeps contents cold for 24 hours or hot for 12 hours.
Spare Tank or Top: Having an extra tennis top in your bag can keep you comfortable and looking stylish if you want to refresh your outfit during an intense game or after a match.
Tennis Jacket: Whether you are keeping your muscles warm before a match to avoid being more susceptible to injury or just trying to keep warm after a match, a Tail tennis jacket will have you looking and feeling like a tennis fashion icon. Especially if you're wearing a tennis dress, a jacket is a great addition to make sure you're not cold on the court.

Sunscreen: It's beyond important to protect your skin from the sun's harmful rays while playing tennis. Neutrogena Wet Skin Spray SPF 30 is a great option for athletes because it provides broad-spectrum coverage and is specially formulated to work on wet or dry skin. Spray sunscreen is ideal because, unlike traditional sunscreen, it will not leave your hands oily, which could affect your grip.

Sunglasses: Sun exposure from playing tennis outdoors consistently can put you at risk for vision problems.  Oakley's She's Unstoppable Sunglasses are ideal for tennis with their lightweight frame and polarized lenses.
Hats/Visors: Another great way to keep the sun out of your eyes to wear a lightweight hat or visor. Tail Activewear offers an incredibly chic option with the Embellished Rhinestone Visor

 

that comes in both black and white to best coordinate with all of your favorite outfits.

Tennis Balls: Keeping extra tennis balls in your bag is one way to be a good hitting partner and they will definitely be useful if you have the chance to warm up before a tournament.

Extra Grips or Overgrips: Often preparation is the key to success, and keeping extra grips in your bag can set you up for a win. When you lose confidence in your hold, it's time to swap out those worn out or dirty grips to keep you at the top of your game.

First Aid Essentials: Injuries happen to the best of us. With some anti-septic cream, ibuprofen, and athletic tape in your bag you can treat the most common minor injuries. Having an ankle brace on hand can also be helpful if you roll an ankle.
Once you have gathered these essentials you will need a fabulous bag to put them in. Functionality meets style and sophistication with the Chrissie Tote by Tail. This gorgeous bag is extremely spacious and has specialized internal storage including a pocket to protect your racquets and an insulated pocket to keep your water bottles chilled.
This list of items every woman should keep in her tennis bag is a great way to make sure you're ready for whatever the day brings!